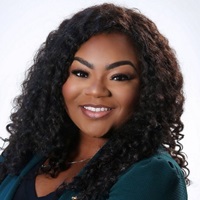 Bio
Mother, wife and real estate executive, Karen Hatcher, is the CEO and head broker for Sovereign Realty & Management. Karen is a Certified Property Manager® (CPM®), which is the elite mark of distinction to those invested in real estate demand when they seek someone who they trust to manage their assets. Serving the Atlanta-metro area for over a decade, Karen sets the standard in keeping vacancy rates low- and maximizing-income sources for her clients.
This Rochester, New York native landed in Georgia's capital city of Atlanta when she attended Clark Atlanta University, where she received her bachelor's in Finance degree in 2002. She then continued her education after pursuing a Master's in Business Administration, with a concentration in Real Estate, from Georgia State University in 2011.
Founded in 2008, Karen created Sovereign Realty & Management to be a full-service, one-stop-shop real estate management experience with the necessary "know-how" to provide her clients with unparalleled service. She and her dedicated employees serve every customer with the passion of their motto, "Improving Lives, Transforming Communities."
Karen has been recognized by her real estate community in more ways than one. While at Georgia State, she was awarded Student of the Year in 2011 by the Institute of Real Estate Management® (IREM®) Georgia Chapter, then gain as Candidate of the Year in 2014, and finally receiving the Presidential Award in 2015. Karen entered into the Multi-Million Dollar Sales Club (Not coined Top Producers) by the Atlanta REALTORS® Association in 2015 and met every year since. She continued on to be awarded the Five Star Circle of Service and Captain of the Industry awards in 2017 from the Atlanta REALTORS® Association.
Karen makes an effort to give back to the community that has given so much to her. She serves on the Executive Council for IREM®-Georgia Chapter, Vice President of Administration and Finance and Trustee on the Political Action committee for the Atlanta REALTORS® Association, and as a member of the National Association of Residential Property Managers (NARPM). Karen also makes time for teaching and is passionate about real estate education. She is an Continuing Education instructor for the Capitus Real Estate School where she teaches Ethics and Leasing and sits at the Board of Governors. She also serves her time by volunteering at Habitat for Humanity, Hosea Feed The Hungry and several other charitable organizations, all in Atlanta.
When Karen isn't working real estate she is a devoted wife and mother of three beautiful children.