New Fair Housing Action Plan
January 10, 2020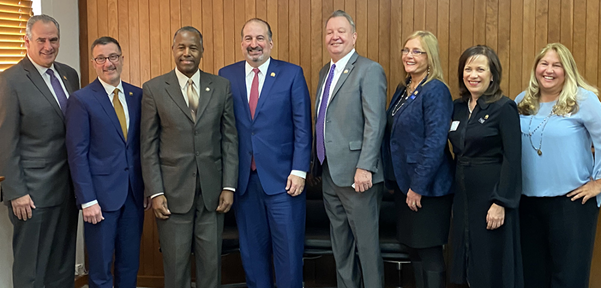 The 2020 NAR Leadership Team Meet with HUD Secretary. From left: President-elect Charlie Oppler, President Vince Malta, HUD Secretary Ben Carson, CEO Bob Goldberg, Immediate Past President John Smaby, First Vice President Leslie Rouda Smith, Vice President of Association Affairs Mabel Guzman, and Vice President of Advocacy Christine Hansen.
The leadership of the National Association of REALTORS® met in Washington this week where they unanimously passed a Fair Housing Action Plan which will distinguish NAR as a national industry leader on fair housing.
NAR reorganized last summer to create a new Fair Housing Policy Committee so NAR could more effectively advocate on national fair housing policy. NAR hired Bryan Greene as its Director of Fair Housing Policy. Bryan Greene served at the U.S. Department of Housing and Urban Development for 29 years, where he was the top career official overseeing enforcement of the federal Fair Housing Act.
The recent New York Newsday investigation underscored the need for NAR to further ramp up and reinvigorate its fair housing commitment.
NAR's new Fair Housing Action Plan, abbreviated 'ACT,' emphasizes (A)ccountability, (C)ulture Change, and (T)raining in order to ensure America's 1.4 million Realtors® are doing everything possible to protect housing rights in America. Among other things, the plan specifically commits NAR to:
Ensure that state licensing laws include effective fair-housing training requirements and hold real estate agents accountable to their fair housing obligations;
Launch a Public-Service Announcement Campaign that reaffirms NAR's commitment to fair housing, and how consumers can report problems;
Integrate fair housing into all REALTOR® conferences and engagements (to include a fair housing theme throughout the May Midyear Meeting;)
Explore the creation of a voluntary self-testing program, in partnership with a fair housing organization, as a resource for brokers and others who want confidential reports on agent practices so they can address problems;
Create more robust fair housing education, including unconscious-bias training, and education on how the actions of REALTORS® shape communities;
Conduct a national study to determine what factors motivate discrimination in sales market;
Profile leaders who exemplify the best fair housing practices and workplace diversity;
Develop materials to help REALTORS® provide consumers with information on schools that avoids fair housing pitfalls;
SBA To Begin Processing PPP Forgiveness Applications
October 9, 2020
The U.S. Treasury Department has announced that the Small Business Association (SBA) will begin...
Status Update for Moehrl v. NAR Litigation
October 8, 2020
Status Update for Moehrl v. NAR Litigation
Eviction Moratorium Update for REALTORS®
September 23, 2020
This Section Legislative Local Issues State Issues Federal Issues
CARES Act FAQs - Updated September 8
September 9, 2020
NAR's Federal Advocacy team has been working closely with Congress and the Administration to...
CDC Issues Eviction Moratorium; NAR Opposes
September 9, 2020
Effective September 4, 2020, the Centers for Disease Control and Prevention (CDC) ordered a...
REALTORS® Win With Federal Funding Bill
August 13, 2020
Work is getting done in Washington, DC!